I am not sure what it is about the jockstrap, but they just look so sexy!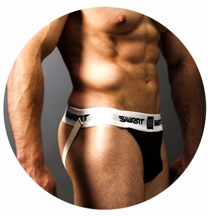 Jockstrap
I was surfing online and came across a story that I thought was hot and I was wished it was me standing there in a jockstrap. This is the story:
My name is Patrick and I used to share a flat with a work colleague. We both worked flexible hours, so we never really knew when the other one would be in. One morning I woke up and it was my day off and, not sure if Adam was around, I pulled on my white jockstrap briefs before heading for the WC. When I came out and had a look around, I realised that I had the place all to myself. I went to the kitchen to make myself a nice cup of coffee. As I passed the mirror in the hallway, I caught glimpse of myself in the white jockstrap. This jockstrap didn't really hide much as I'd bought it on holiday in Spain years ago and now the jockstrap was a bit stretched and worn so it didn't give much in the way of support, but its was a really comfortable jockstrap even if they did show off my bulge more then it should..
I'd just put the kettle on to boil when I heard a key in the lock. I wasn't too bothered as I thought it would be Adam and he had seen me in this jockstrap before, but a second or two later, two guys in overalls appeared, one was around 40 and the other one was in his early twenties I think. They appeared in the kitchen and I don't know who was more surprised, them or me in my jockstrap.
The older of the two spoke," Sorry to disturb you, we're here to repair the boiler." Adam must have forgotten to tell me. I felt a bit self conscious standing there in just my jockstrap.
"Okay, just let me get a coffee and I'll be out of your way,"
"Coffee sounds good, any chance of a cup?" he said and I was sure he was checking out my bulge.
So I found myself making coffee for the guys in just my jockstrap. As I handed them the mugs, the older guy "accidentally" brushed his hand against my package with a cheeky smile. I went back to my bedroom to get dressed and left them to it, but when they eventually left, the guy left me his card. "Just in case you get more problems with the boiler,' he smiled. I turned the card over and he'd written 'Dean. Call me soon'
Why does this stuff never happen to me when I am walking around in my jockstrap, not fair! If you have a story like this we want to know, it makes our day go fast and we will certainly publish your stories if you let us. Email them to info@esmale.com
For all the latest on jockstrap and gay sex toys please sign up to our newsletter!
Team esmale, essentially for men!