When the guys at esmale first tried the Tenga Rolling Head Cup we just had to share our thoughts with you. This is the first Tenga masturbator to feature a specially designed suction system to imitate a blowjob. Plus I just love the accordion style flex design that enables you to vary your stroke and 'up and down' and all around the head of your penis. Covering the top air vent with your finger heightens suction. Whilst the internally, pre-lubricated soft nubs and nodules massage the penis. Honestly, I experienced an orgasm like never before!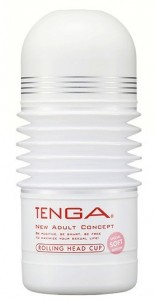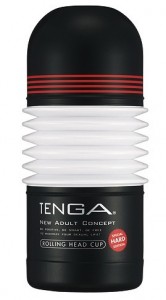 If you are a fan of our blog you probably would have realized that we are a big fan of Tenga. We love trying it, writing about it, unwrapping it… you get the point.
I started off slow, stroking my penis in and out with cautious simple thrusts. I was using the "Standard" version of the Tenga Rolling Head Cup. The pre-lubed interior working just fine, I began to turn it up a notch – thrusting more and more vigorously, first one-handed then two. Until my body was totally in sync with the rhythm I was getting closer to climax. Within minutes I had emptied a huge load all the interior of the cup I was gasping for air with a massive grin on my face.
Now, Tenga suggests these are for single use, but if you're careful and use a condom you can use your Tenga again. Just reapply some lube and away you go. Take my word for it these things are addictive.
Different styles:
Hard Rolling Head Cup: The original, updated with a gripping material that grabs better and tightens more as it is used.
Soft Rolling Head Cup: A softer, gentler grip for a more relaxing experience.
esmale Top tip: Try warming before use for a totally natural feel.
5 Reasons To Buy This Toy
Sucks you off whenever, wherever.
Even more fun when used with a partner.
Pre-lubricated.
Better than just using your hand.
Discreet travel companion.
We want to hear from you! If you have any suggestions or recommendations e-mail us info@esmale.com