Tenga's Soft Cup range is made from a super-soft tube that gives you total control over how tight you want it to be, I was told to simply grip harder for a more secure feel! I couldn't resist I had to test-drive this male masturbator.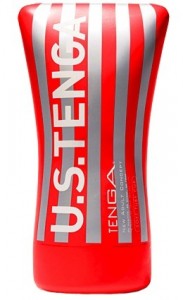 With a pre-lubed canal filled with up to 70 nubs and nodules gripping your penis, I can totally understand why this is a popular choice at esmale.
The nubs and nodules face both directions, making it pleasurable on the backward stroke as well as on the way forward; and the air hole at the end can be covered or uncovered to change the level of suction.
Like all other Tenga toys this masturbator is discreet by design (it looks like a tube of toothpaste with more than enough room to stick your tool in).
The pliable outer shell allows you to control and vary the pressure as you masturbate yourself to climax. The size of this sex toy is 6.5 inches long with a diameter of 2.5 inches. For men with bigger erections, we recommend you get yourself the Ultra Size, which is 7 inches long with a diameter of 3.25 inches. One of the my favourite features is it's ability to "squeeze out" of the cup after ejaculation.
Tenga is described as an "onacup" (which means something about going solo); just like most sex toys it is even better when someone else is working it for you. Get your partner to use it on you and I guarantee the experience will give a whole new meaning to the word hand-job.
Although designed for single use. Careful use and wearing a condom means you can use it again and again. Unlike the flip hole you can't clean the Tenga out, so if you do cum inside, you'll have to throw it away.
Styles:
Soft: The Soft cup has a softer, gentler grip for a more relaxing experience.
Hard: This cup provides deep and intense suction combined with a hard tightening action.
Ultra Size: The "ultrasize" and "super vacuum" (U.S.) edition cups are 20% larger and are designed for the more endowed.
5 reasons to buy the tenga soft tube cup masturbator
Available in four unique styles, try them all!
It feels amazing, and is even better when someone else takes over.
Its soft specially designed exterior allows you to vary pressure.
It looks like a tube of tootpaste, 100% discreet.
Tried and tested by the boys at esmale.
We want to hear from you! If you have any suggestions or recommendations e-mail us info@esmale.com and tell us what you think of the tenga range.