Recently we came in contact with Michael and Aaron a lovely couple and owners of Queerdaze, a gay blog featuring real people, real stories and real talk. What we loved about the blog is that it is a result of a love story from both ends of the pond. American-born Michael and Aaron from the South of Ireland met in New York where their journey starts. After reading their blog, and seeing a review of some of our gay sex toys, we were intrigued and contacted them as we wanted to know more and this is what we found out!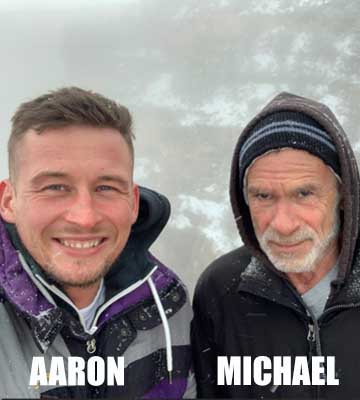 A bit about the men themselves:
Michael: I was born in Chicago, went to college at University of Wisconsin. When I graduated I went back to Chicago where I was a commodities trader. I lived in New York and Philadelphia briefly before leaving for Los Angeles for about 15 years, my idea of heaven. It was in LA that I was able to become comfortable with being gay and who I really was. In 1999 I moved back to New York where I lived until 2020 when I moved to Dublin, so Aaron and I could start a life together.
Aaron: I was born in Waterford in the south of Ireland. Was always very out going, into sports (Big Newcastle United fan) and a bit of a troublemaker. I lived a discreet gay life until I moved to Dublin for University where I grew to love and accept myself. Although, I never came out to my family and friends from back home until Mike proposed. I now work for a bank in Dublin while on my time off my favourite things to do are travel, watch football, write our blog and most of all just being with Mike and getting up to no good.
A little more about the founders of QueerDaze.
●    What would you say is the biggest difference between you both?
We met in New York, during the sumer of 2017. It was a originally a Grindr hook-up. After the summer it was 2 1/2 years until we saw each other again, when I came to Dublin to visit Aaron, in January of 2020. We had such a great time I planned to go back to Dublin in late April. When Covid came I was determined to get back to Dublin sooner than later. At that point in time all flights were being cancelled and it took me about 5 days to find a flight that would get me back to Dublin. Got here in March, engaged in May and married in October.
● What would you say is the biggest difference between you both?
Aside from our age….. Aaron is more patient and withholding of his feelings where I am the more impatient one and the person who talks more about his feelings.
● What was the thought process behind creating Queerdaze?
It was Aaron's idea because he felt very few people understood his being into older men. I enjoyed writing and he is a great storyteller. It was during Covid and we thought it would give us a project to work on together that we would both enjoy. As it turned out he was very right.
● How did the name Queerdaze came about?
Mike came up with the name QueerDaze for the blog. The meaning behind the name was to symbolise growing up gay and the many issues we faced almost like being in a daze and not sure what was going on and the obstacles we had to overcome.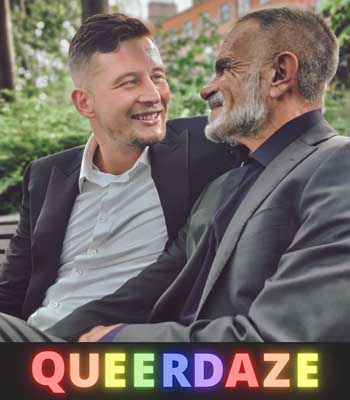 ● What would you like to achieve with Queerdaze?
Currently it is our hobby and we both enjoy talking about our experiences and opinions. We feel many people can relate to them to some degree and can also learn from our mistakes and or adventures. In the future we would like to make QueerDaze more interactive and regular for our readers to enjoy. Our aim is for QueerDaze to become the place to go to read relatable topics that we all come across in our lives. Unfortunately it takes a lot of time that we often don't have.
● Who or what inspires you?
In regards to the Blog, I think we both inspire each other. We are constantly surprised how similar our lives have been despite our difference in ages.
● City or countryside?
Aaron and I are both fans of big cities. We love being able to go outside and be right in the middle of things.
● Cats or Dogs?
Definitely dogs
Who is your celebrity crush? Aaron Simon Cowell maybe 15 years ago Michael Aaron
When you are not working how do you like to spend your time Every chance we have time off we spend it with each other from spending the day in bed and working on our Blog, to laying on a beach somewhere in the sun. We spend a good amount of time in America so we can visit with my family and now, "our friends," formorally mine.
● What does your favourite holiday look like?
If we have a few weeks we like starting off in a big city running around and seeing everything that interests us and then ending it on a beautiful beach somewhere, that is hot and sunny. The major thing missing in Dublin is good weather.
● Who would you say has had the biggest influence on your life?
Michael A favourite aunt of mine who gave me the courage to be myself and not be afraid of what other people thought of me and to live my life for myself.
Aaron – Mike, he was the first person I have ever come across to truly make me comfortable in my own skin. I have always had high ambitions of myself but Mike instilled a belief in me that any thing is possible and that you should enjoy your life and the things you like to do.
● If you could send a message back to yourself when you were 16, what would that be?
Michael Before you make anyone else happy you have to be happy with yourself
Aaron Be comfortable with yourself and don't worry about what other people think. At the end of the day it's your life and you should enjoy it.
● Where would you like Queerdaze to be in 5 years time?
We would like the Blog to continue going in a positive direction. Possibly expanding the Blog and if it was possible in the future to make it self sustainable and we might even earn an income from it. Allowing us to spend more time on it, putting even more content out there that people enjoy to read and or watch.
You can find the QueerDaze blog here https://www.queerdaze.com/