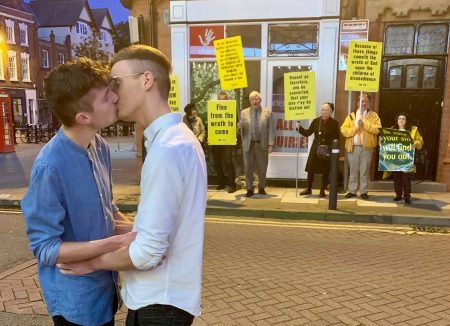 A bunch of losers who congregated outside the Stoneyhouse Arts centre in Chester to complain about a Rocky Horror Picture Show performance quoting mistranslations from the original Hebrew and Aramaic biblical text got more than what they bargained for when boyfriends Joe Fergus, 24, and Robert Brookes, 21 kissed in front of them!
Joe said: "When we arrived, there was lots of shouting between the protesters and audience members waiting outside the theatre."
"The problem with that is you can't fight hate with hate, which is why we decided to spread some love."
"I respect everyone is entitled to their opinion, however, I am also entitled to kiss my boyfriend wherever I want without judgment, and that's what we are fighting for."
The Storehouse venue also tweeted out their support to our LGBTQ+ community…
To everyone coming to The Rocky Horror Show tonight and this week at Storyhouse:

Storyhouse is and always will be a safe space. We celebrate and support LGBTQ+ communities – always. Let's have a FABULOUS night & week. ???️‍?

To those who are protesting: #LETSDOTHETIMEWARPAGAIN pic.twitter.com/IPhCC3GuVr

— Storyhouse (@StoryhouseLive) September 16, 2019
The cast even joined the losers (who sadly didn't join in) for a street rendition of Time Warp!
LOVE AND ROCKY HORROR WILL ALWAYS WIN !!! ????? our wonderful cast doing the Time Warp for the protestors! @rockyhorroruk #rockyhorror #loveislove #loveconquersall PLEASE SHARE pic.twitter.com/k8NDmeJD1a

— joanne k clifton (@joanneclifton) September 19, 2019
2019 people!
---
Follow Esmale on Instagram @esmale_adult_store which is jam packed with fit guys daily!
This blogpost was brought to you by Esmale, the leading online gay shop.
Remember to use the exclusive promo code BLOG10 at checkout for 10% off your order!