We were not expecting this, but Swiss Navy is now our nr 1 selling brand. Before Swiss Navy, it was Str8 cam lube that was the first, but soon Swiss Navy wiped the floor with all the others. It seems that all orders for anal toys and cock toys go with a side of Swiss Navy.
The most sold Swiss Navy product is the Swiss Navy Premium Masturbation cream. This super slick cream is a combination of oil and silicone and therefore specifically designed for good old doses of self-loving. We would not recommend this product Swiss Navy Product with condoms, as oil and condoms don't mix well. This is a pure wanking cream and is the best at it!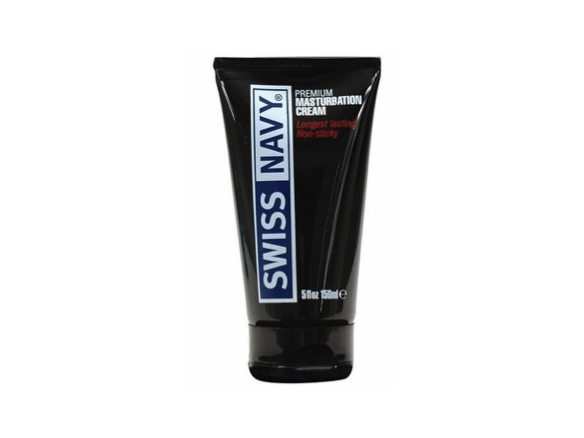 Swiss Navy premium masturbation cream.
This Swiss Navy product was not really on the radar, and I have not tried it myself, but I have a colleague who swears by it. He made a comparison between Swiss Navy being 100% pure creamy organic butter and other lube being margarine. Swiss Navy cream feels luscious and premium. It is like treating your penis to some quality loving in the same way you might have an extra special breakfast in the weekend. Swiss Navy have made it really easy for us and the price for this premium cream is only £9.99 so you can be at it all weekend and all week if you want.
Check it out here on our esmale store where we will deliver it in time for the weekend so you can enjoy your premium Swiss Navy wank, followed by a nice bit of breakkie, lol!
At the office, we will follow the trends and see if Swiss Navy will remain the nr1 selling lube. Liquid Silk, ID lube and Str8cam are not to far behind so we will see how long Swiss Navy remains the king of lube. I am also going to treat myself to some premium Swiss Navy cream and see if it is as good as my colleague says. I am sure it is, as he is a bit of connoisseur when it comes to lube and gay sex toys.
If you want to known more about Swiss Navy, gay sex toys or anything related to this, then please sign up to our newsletter and you will get 15% off your first order. Brilliant or what!
Team esmale, essentially for men.