Not so long ago we got some lube sent to the esmale HQ that looked like cum, STR8cam lube. We were instantly drawn to the lube, this had much to do with the guy behind the lube. His name is Jeff (we call him lube man) and he is one good looking fella! Have a look.
There were two different bottles of lube in the package, a travel size lube and a more traditional sized one. The lube content was the same. The look of the packaging is very strong with a cartoon image of Mr lube looking hot, nice touch!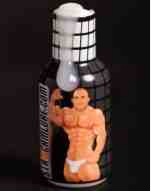 First thing I checked was the consistency of the lube and indeed it looked like cum, great for the imagination! I tested the lube to see if it stained and it did not, so this is a sexy non-staining lube that looks like cum, YAY!
Time to test the lube, I was not sure how to test the lube at first and in the end I opted for some self-pleasuring. The fact that this lube looks and feels like cum makes all the difference. I used a lot and started to fantasise that it was real cum and my goodness that made all the difference. As I was covered in Jeff's cum, I mean STR8cam lube, and really giving it a go, I achieved one of best self help sessions I have had in a very long time. This will be my new lube for a good wanking session, no doubt. I can imagine that it will also be very horny when in play with some hot guy. I can't wait to test it in that scenario. I might take the travel size lube to the sauna and use it on some guy there. He will be well surprised seeing all my lashings of cum, hahaha!
If you want to know more about STR8cam lube, please email us at info@esmale.com and we will get you all your answers.
At esmale we will have a wide selection of lube available for you and plenty of gay sex toys to use the lube with. When you sign up to our newsletter you will receive great offers and product reviews to make sure you have direct and fast access to the latest lube and other gay sex toys!
Team esmale, essentially for men!