At esmale we are committed to providing all of the best gay sex toys out there on the market. We promise to supply you with a one stop shop for the very best gay sex toys, including the best range in butt plugs, douche, penis pumps, cock rings, masturbators, lube, as well as supplying the biggest and best brands on the market, including Tenga, Aneros, Toy Joy, Fleshjack, Liquid Silk and many more.
What is the Fleshjack?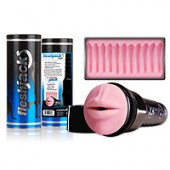 If you're a fan of masturbation, which a lot of us are, then this great new gay sex toy is the perfect masturbation tool for you. The Fleshjack has been on the market for quite a few years and have quickly become a very popular gay sex toy for every mans toy collection. The Fleshjack is a canister shaped masturbation toy the you put your penis into and which provides you with a very realistic feel and sensation to actually be inside somebody, whilst you give yourself a great deal of personal pleasure.
Top 5 reasons to buy a Fleshjack:
You are always in control! The Fleshjack can provide you with the sexual gratification whenever and wherever you need it!
Nothing gets closer to the real thing! Made from a soft and pliable real feel material, its designed to give the nearest sensation to the real thing!
Improve your performance and stamina! No matter how good and long lasting you think you are in the bedroom, there is always room for improvement and this is the gay sex toy for you to improve! The Endurance Jack is designed especially for this task!
Safer Sex! In the age of growing incidence of STD's and the ever present risk of AIDS, the Fleshjack provides a safe, realistic and satisfying means of sexually expressing yourself!
Lifetime of pleasure! If properly looked after the Fleshjack will last you a lifetime.
There are many different types of Fleshjack to satisfy your particular tastes, and I will be covering those off in detail in blogs to follow, as well as providing further guidance on the best Fleshjack for you, as well as detailed product reviews.
So please, check out the esmale blog site again for more on the great Fleshjack product.
You'll have fun and enjoyment with the Fleshjack product range, which will soon be available at esmale.com and will form a small part of our great gay sex toys range.
We will be carrying many more products from the Fleshjack range and there will be further blogs featuring some of our favourites!
We want to hear from you! Get in touch and let us know what your favourite Fleshjack products are and what we should stock. If you have any suggestions or recommendations please e-mail us at info@esmale.com
Team esmale – essentially for men!