Unlike its smaller counterparts such as the tenga air cushion cup the deep throat is capable of accepting nearly the full length of my penis. First tick!
I never expected it to look and feel like it does. It weighs almost nothing like all tenga products can discreetly lay inconspicuously anywhere in your house without a hint of the word sex toy. From a distance it looks more like a beer can.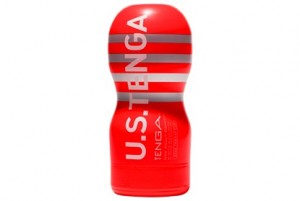 I got straight to work unwrapping the plastic, dropping my pants and popping off the cap. I had an erection just thinking about what was going to happen!
Then I was ready; I applied a small bit of lubricant to my penis, only to discover that wasn't necessary as just like most tenga products it comes pre-lubed! I slowly slid my penis into the opening. Plunging deeper into the canister, I could feel these soft textures and ridges working all over my penis.
I slowly moved the toy up and down, and this felt amazing. As I edged closer to the point of no return, I removed the sticky label on the bottom of the cup to expose the opening. While stroking up and down, I covered the small opening with my finger, and the suction grip took over the pleasure. This felt just like real deep throat action. By this point I was at the point of no return, and a very satisfying ejaculation it was too!
Another great attribute to this toy is that it doesn't leave a mess of a hundred tissues everywhere; it's so easy to dispose – drop it in the bin!
This is definitely the next best thing to getting a real deep-throated blowjob.
The size of the tenga deep throat cup is 6.5 inches long with a diameter 2.5 inches. For men with larger erections, we recommend the Ultra Size, which stands 7 inches long with a diameter of 3.25 inches.
Soft: The Soft cup has a softer, gentler grip for a more relaxing experience.
Hard: This cup provides deep and intense suction combined with a hard tightening action.
Ultra Size: The "ultra size" and "super vacuum" (U.S.) edition cups are 20% larger and are designed for the more endowed.
5 reasons to buy a tenga deep throat cup masturbator
Convenient, quality masturbator.
Has the ability to eat you whole.
Ultra Size for you guys with a bigger-than-average penis.
Available in 4 different styles.
Simulates an incredible deep throat action.
We want to hear from you! If you have any suggestions or recommendations e-mail us info@esmale.com and tell us what's your favourite masturbation toy?