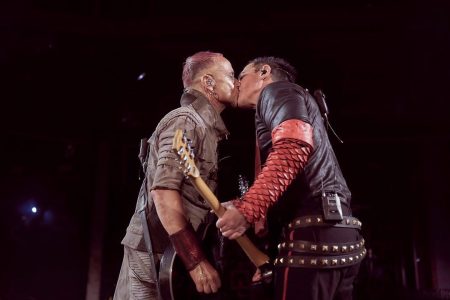 Leading German industrial metal band Rammstein recently headlined a date at Luzhniki Stadium in Moscow, Russia and pledged support to the entire LGBTQ+ community.
Known for its oppressive homophobic, transphobic, and several other phobics regime, guitarists Paul Landers and Richard Kruspe kissed each other onstage during song Aüslander.
They later posted the picture to their official Instagram (here) with the caption Россия, мы любим тебя! – or Russia, We Love You! in English.
This isn't the first time that the band have shown their support to the LGBTQ+ as only last week in Poland, frontman Till Lindemann surfed the crowd in a dinghy whilst waving a Pride flag!
---
Follow Esmale on Instagram @esmale_adult_store which is jam packed with fit guys daily!
This blogpost was brought to you by Esmale, the leading online gay shop.
Remember to use the exclusive promo code BLOG10 at checkout for 10% off your order!