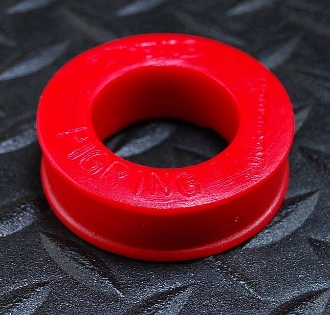 Are you a 'pig' in the bedroom? Let everyone know it with the OXBALLS Pig Ring.
There's a reason OX invented this great range of cock rings, and it wasn't just to give your penis a bigger than usual appearance.
Picture the scene: you're in the middle of a steamy session at the HOIST with a sleazy hot guy! In the moment you get over excited and BANG! You shoot your load everywhere. If this is all too familiar, the Oxballs Pig ring will be a welcome addition to your sex toys collection.
This cock ring is made of specially formulated silicone designed by our friends at OXBALLS. Trust me I've tried this bad boy and it is super stretchy, yet firm enough to keep your penis at a firm salute.
The pig ring will help turn you're weak, lack-lustre erection back to it's full glory and can also help delay premature ejaculation.
Embossed on the outside of the ring reads 'PIG RING' and wearing it makes more than a bold statement.
The pig ring is part of the OXBALLS range of male sex toys. View the full range at esmale.com
Team esmale
essentially for men