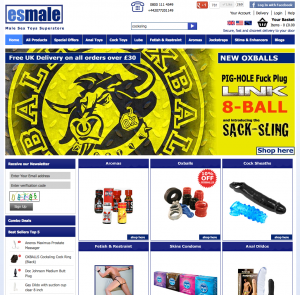 October 12th 2012 is officially esmale's birthday, so for 1 week only we're celebrating by taking 10% OFF everything!
This is the perfect opportunity to bag some serious bargains with our special birthday offers. With so many offers to choose from we have something for everyone.
Since there's so much to choose from, we've picked out a few of our favourite combinations to celebrate the last year!
OXBALLS

Whether you're new to tie-and-tease play, or a seasoned bondage expert, there's no substitute to the bestselling OXBALLS range. The cocksling offers all the benefits of a cock ring and ball stretcher in one, heightening the sensations so every touch feels 100 times more exciting. In the birthday offer, you can also save 10% OFF the new Sacksling the latest creation from those dirty boys at OXBALLS.
Anal Play
Anal sex can be really enjoyable experience, but for first-timers it's a scary thought, we have sourced anal toys designed with beginners in mind. The Liquorice dip butt plug and anal starter gay dildo is the perfect place to begin. Lube is another way to make play morefun. That's why we're giving away a free bottle of 50ml Liquid Silk with every anal dildo or aneros order.
Go online today to see the full range of male sex toys available at esmale today.
Team esmale
essentially for men!