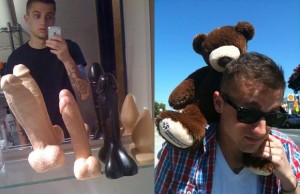 We like to know what our favourite pornstars are up to! We came across this picture of hottie Chris Porter – It's nice to see that they Tweet about the same gay sex toys that we do… Mr Porter is obviously fond of the big gay dildo 😉
Do you have a toy collection to rival Chris Porter – we want to know what your gay sex toys collection looks like! We're giving two lucky guys a chance to win a Julians Stud Cock Ring.
All you need to do be in with a chance to win, head on over to Twitter and send us a tweet @essentiallymale – and a pic of you with your favourite toy.
Competition closes tomorrow 12/09/2012 and winners will be notified via DM.
Happy flashing.
View the full range of gay sex toys available at esmale.com
Team esmale
Essentially for men