Star of 'Boogie Nights' actor Mark Wahlberg has been photographed leaving a sex shop with anal beads and masturbator in hand! Judging by the look on his face, he couldn't wait to get it on!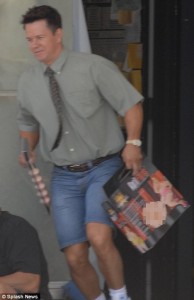 According to Daily Mail, on Monday April 23, Wahlberg was spotted leaving a male sex shop while in Miami. These toys will more than likely find themselves used as props for his upcoming film Pain and Gain, co-starring Dwayne 'The Rock' Johnson. Rumour has it that the male sex toys will be used during a torture scene in the film.
Male sex toys manufacturer Topco were quoted as:
"We can't say whether the items are going to be used as a movie prop or not," and continues as saying "Of course, even if that's the case, we'd prefer to imagine Marky Mark doing something a little funkier with them…"
Why should Mark Wahlberg have all the fun! Get your anal beads from esmale.com today.
Team esmale
essentially for men