I love anal beads! There is a lot to be said for the Toy Joy Sweet Sensation anal beads with handle. It is simple and effective! These great gay sex toys feature slightly graduated balls going up the shaft and just the right amount of length to stimulate the prostate. Don't just take our word for it when we say this is best when put in your man's hands to control. These balls will stimulate your anus and hit your prostate, get the best of both worlds with this gay sex toy.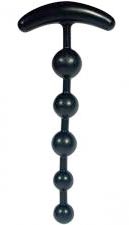 Anal beads are a fun and easy way to stimulate your prostate. The large handle makes insertion effortless and offers great control and security when in use. Plus, the graduated size of the wand and balls makes for loads of anal pleasure as your ass expands and contracts to the shapes and sizes. With no moving parts or insides, this is also easy to clean.
We recommend using an anal lube such as Maximus anal lube, apply a generous amount to your anus and your anal beads. The firm yet flexible design of the Sweet Sensation anal beads makes it easy to get it up your ass and you can twirl it around nice and slow, or go right at the ass like a jackhammer. With 6″ in effective ass-stuffing length, and four balls ranging in circumference from about 2.5″ to 3.5″, this toy is small enough to give you or your partner some wiggle room, but big enough to get you off.
I only fully appreciated the anal beads when I got my partner to take the reigns. Try it… I guarantee you'll love it!
Take a look at full range of anal beads available at esmale here.
Team esmale
essentially for men