We have long advocated the use of the anal douche to provide the nice clean setting for some serious anal fun. Here's a very handy anal douche and it's in one of the esmale signature blue colours, so we like this beauty a lot!
We will soon be carrying a large range of anal douche at our online store, which will soon be opening in October at www.esmale.com. We're excited about finally being able to bring you all the gay sex toys you need!
Blue Anal Douche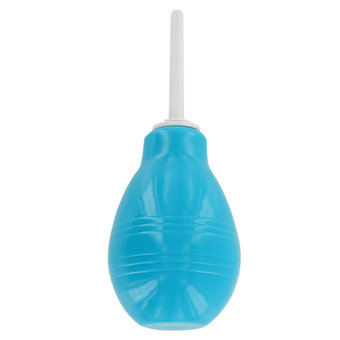 This handy and extremely easy to use anal douche is a must for all lovers of anal play. You just have to be clean down there to really enjoy some serious anal play and it gives you so much more confidence in your anal play when you know that everything is clean and tidy. We have long advocated the use of the anal douche and this little blue anal douche in the esmale sky blue colour is a safe and effective toy.
Anal Douche Stats:
Length: 8.25 inches
Insertable length: 2.75 inches
Circumference: 1 inches
Diameter: 0.3 inches
Material: Rubber
Colour: Blue
Waterproof: Submersible
Contains latex
Contains phthalates
Is this a product you have used before? Care to let us know what your thoughts and experiences of this anal douche are? If so, please drop us a line at info@esmale.com. We are happy to share you experiences with our audience, so as long as you are, so let us know.
We want to hear from you! If you have any suggestions or recommendations for any anal toys, anal douche products or gay sex toys in general, then e-mail us info@esmale.com.
To keep up with our latest news and offers, sign up to your newsletter!
Team esmale, essentially for men!